Co-Curricular and Extracurricular Activities The core aim of education and learning should be to foster holistic development. The importance of co-curricular and extracurricular activities cannot be overlooked in fostering holistic development. Co-curricular and extracurricular activities facilitate in the development of various domains of mind and personality such as intellectual development, emotional development, social development, moral & spiritual development, aesthetic development etc. The teacher trainees should have to perform multi-dimensional functions in organizing and executing Co-curricular activities in their future job. Through co-curricular and extracurricular activities our trainees not only developed their selves in different domains but they also learn to plan , organize and coordinate different activities systematically. Keeping this idea in mind, every Saturday we have one hour allotted for co-curricular and extracurricular activities like singing competition, poetry recitation , on the spot painting, cartooning , mehndi competition , on the spot photography, garba, vachikam, debate, elocution , drama , different kind of sports activities, spiritual activities like yoga and meditation, various social activities to sensitize students towards different social problems etc. With the aim of providing opportunity of first hand observation and making learning enjoy full college organizes different educational visits too. With the aim of nurturing leadership qualities in our trainees through various activities like public speaking, mass motivation, life skills, problem solving skill, team building, time management etc , our University organizes 5 days residential leadership program which is known as sarva netrutva. Our trainees participate in this program regularly and undertake a project.
Cultural Activities
YEAR 2019-2020
Activity In-Charge Name: Mrs. Mital Patel, Mrs. Ranjan Patel
SPORTS ACTIVITIES
Activity In-charge: Mr. Hardik Purohit
Through sports, students are able to build a wide range of abilities and skills such as leadership, confidence, teamwork, patience, self-reliance, trust and many more which facilitate the overall development of an individual. In our college girls participated in many sports activities as National level, State level, Zone level, District level
Sarva Netrutva – A Leadership Training Program
(A UNIQUE INITIATIVE TO LEAD WITH LOVE)
About Sarva Netrutva Program.
Sarva Netrutva is a 5 days residential leadership training program
(Lead for Change)
which is a unique initiative by Kadi Sarva Vishwavidyalaya, started in December 2009. Sarva Netrutva aims to bring holistic development of students which help them to become a noble citizen who contribute in nation building. The whole program works on transforming society through changes in individual and relationships, starting with their own life. It helps in inculcate good habits and develop the leadership qualities with an aim to provide social services to the society/nation. Thus
"Nation Building through Character Building is a main motto of the program."
With the effective use of Meditation, Yoga, Pranayama, Group Task, Games, Learning from films, Role Plays, Interaction with unsung heroes, field (Social) visit and many leadership processes this training invokes attitude of service, brotherhood and responsibility toward society/nation in the participants. Through various activities it nurtures skills like public speaking, mass motivation, life skills, problem solving skill, team building, time management etc in participants. It increases confidence in the youth, thus this program helps the participants in overall development of leadership skills. For continuous learning, university schedule Sarva Netrutva Follow Up session to charge their minds and to motivate students on regular basis.
Objectives of Sarva Netrutva Program
To enhance the hidden leadership skills among the students.
To build up moral and ethical values in the students.
To make them well behaved and responsible citizen of the country.
To build their time management skills, punctuality, self confidence, communication skills, holistic and positive thinking.
To helps the students in goal setting and to achieve it.
To make them aware about the problems of society and make them aware how to overcome.
To unleash their potential.
To make them visualize how to put their learning into actions, how to build a team and work with them.
Education is the process of receiving or giving systematic instruction, especially at a school, college or university. Students gain knowledge and upgrade their skills by using the concepts which they newly learned from their respected educational institutes. There are various educational techniques by which educators deliver the lessons to the students; organizing an educational tour is one of them. Educational tours play an important role in educating students in a practical and interesting manner. It is the natural fact that something that is seen in real can be easily perceived than something that we simply read in a book and memorize theoretically. Learning something by seeing it in person is far better than just learning from books. Also, practical learning stays longer in our mind. So, taking students to trips that will relate to their academics can help them learn the things in a much better way. Educational tours can also be a way to fun and recreation and act as a stress buster for students. Every school must encourage students to participate in Educational Tours. Making the educational tours a part of the curriculum is a good idea to enhance the knowledge of the students. Educational tours are based on an interest-driven approach to improve the overall learning and development of students. On an educational tour, students are energized, excited and thrilled in anticipation of fresh perspectives and informal environments. It is a fun and pleasant time while travelling from one city to another with your classmates and friends. It allows students to witness things from a fresh perspective while trying to learn more about new situations in an informal environment. Many schools and colleges nowadays are following the practice of educational tours so that students can learn more effectively.
Importance of Educational Tours
There is a general saying "I hear and I forget, I see and I remember, I do and I understand," it describes the theory of retaining more information when visually experiencing the activities in a chosen environment. Below are some of the key benefits of educational tours and reasons why getting students on these trips are good for them.
Interactive Learning
Entertainment
Social Interaction
New Experiences
Better Exposure
Passion for Travel
Cultural Observation
Independent
Better Academic Performance
Students gain a better perspective of the world around them by going on educational tours as they are brought in direct contact with new situations which prepare them for facing challenges in their upcoming professional lives. The importance of taking the students out of the classroom to absorb, interact and be immersed in history and educational tours have several learning benefits for students to obtain practical information within the brain.
Educational Tour YEAR 2019-2020
| Sr.No | Place | Date | Target Group | No. of Beneficiary |
| --- | --- | --- | --- | --- |
| 1 | ISRO & GANDHI ASHRAM | 11/09/2019 | 100 | 87 |
| 2 | RISHI VAN, VIJAPUR | 11/01/2020 | 100 | 40 |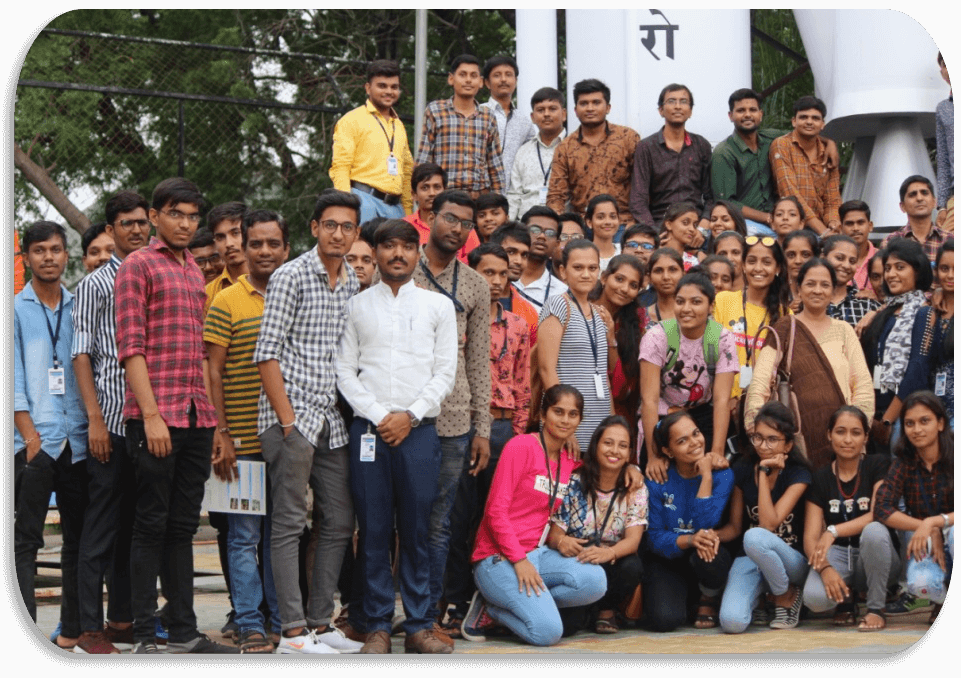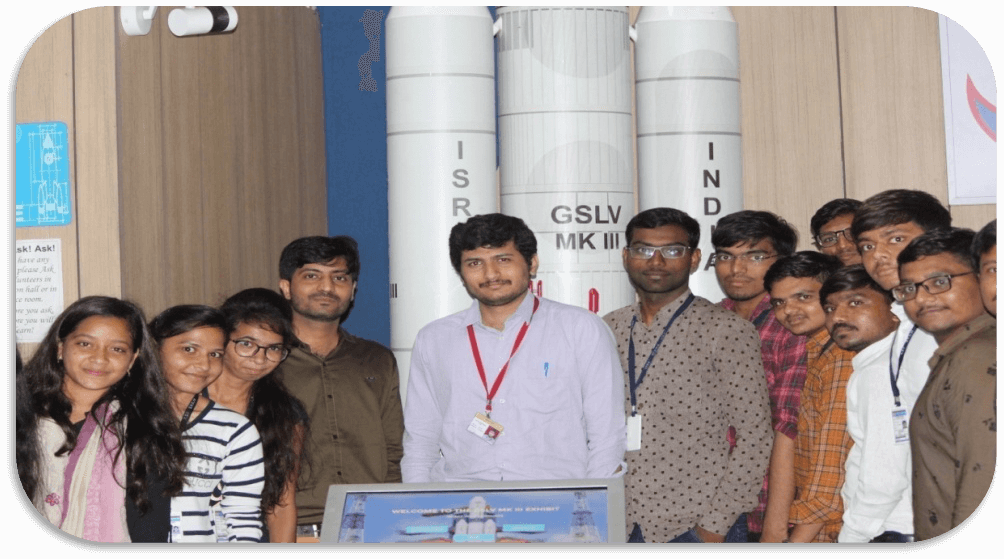 ISRO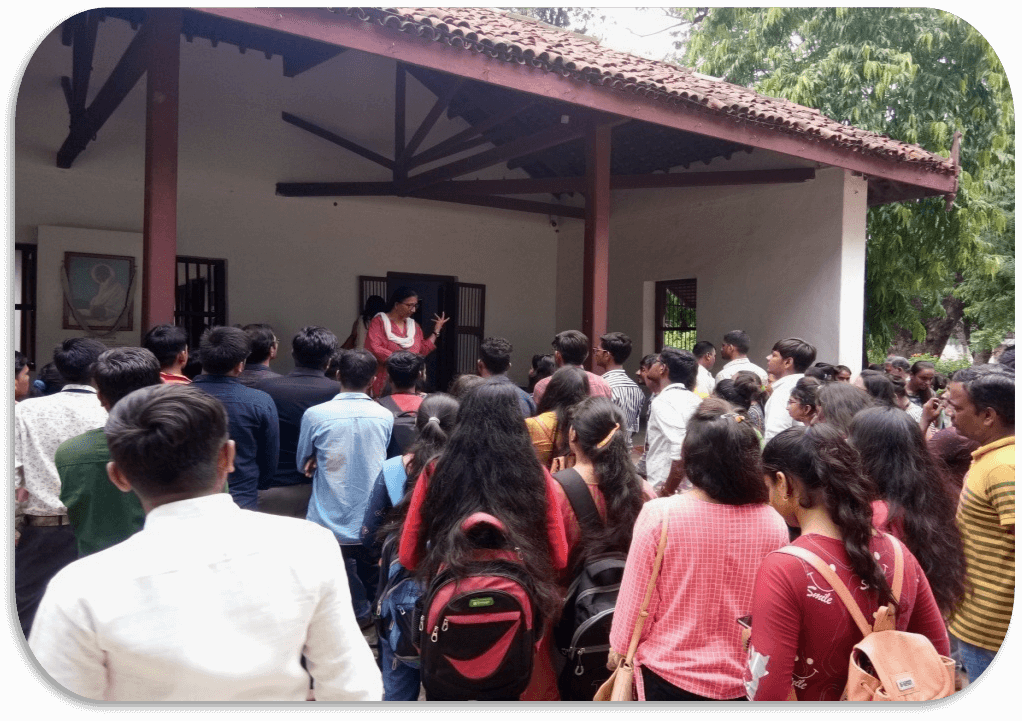 GANDHI ASHARAM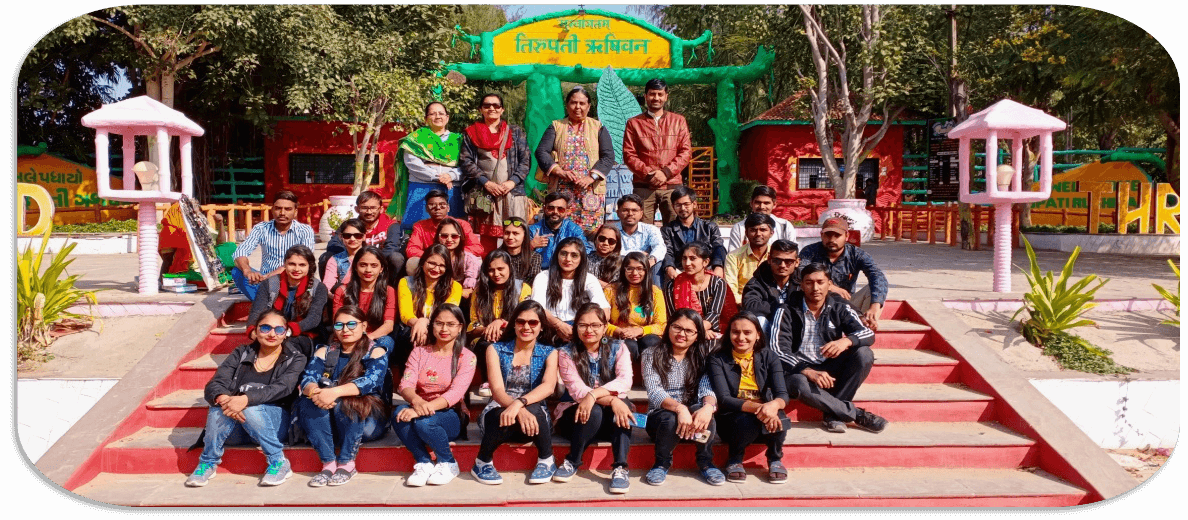 RUSHI VAN, VIJAPUR
SPIRITUAL DEVELOPMENT PROGRAM
આધ્યાત્મિક વિકાસ કાર્યક્રમ
YEAR 2019-20
આજના આધુનિક યુગમાં શાળા કક્ષાએ અને કોલેજ કક્ષાએ વિદ્યાર્થીઓમાં આધ્યાત્મિક તથા નૈતિક  મૂલ્યોનો વિકાસ થાય તે જરૂરી બને છે. તે અંતર્ગત કોલેજ દ્વારા તાલીમાર્થીઓને શૈક્ષણિક તાલીમની સાથે સાથે જીવન ઘડતર થાય માટે વિવિધ મુલ્યલક્ષી પ્રવૃત્તિઓ અને કાર્યક્રમ હાથ ધરવામાં આવે છે. તાલીમાર્થીઓમાં જીવનના ઉદાત્ત મૂલ્યોનો વિકાસ થાય તથા જીવનમાં આધ્યાત્મિક તથા નૈતિક મૂલ્યોના વિકાસ માટે વિવિધ આધ્યાત્મિક શિબિર તથા વ્યાખ્યાન મેળાનું આયોજન કરવામાં આવે છે.
આ આયોજનના ભાગરૂપે તારીખ ૧૭-૦૧-૨૦૧૯ થી ૧૯-૦૧-૨૦૧૯ના રોજ તાલીમાર્થીઓના જીવનમાં આધ્યાત્મિક મૂલ્યોના વિકાસ માટે આધ્યાત્મિક શિબિરનું આયોજન કરવામાં આવ્યું હતું. જેમાં શ્રી રામચંદ્ર મિશનમાં કાર્યરત શ્રી કિરીટભાઈ દેસાઇએ આધ્યાત્મિક જીવન અને શાંતિ માટેનું શિક્ષણ ઉપર પોતાના વિચારો રજુ કર્યા તથા આ કાર્યક્રમમાં તાલીમાર્થીઓને આધ્યાત્મિક અનુભૂતિ માટેની વિવિધ ધ્યાન પ્રેરક પ્રવૃત્તિઓ પણ કરાવવામાં આવી હતી.